Short story: We did really well. Kicked some serious bootie if I do say so myself. According to my bike computer, it was 203.79 miles according, but I'm pretty sure I read about 1% low (which also seems to be the problem with Greg's bike computer), it's supposed to be 204.5, plus I had a 1+ mile ride to the start. My average according to the bike computer was 15.6 for the whole thing, but a lot of the days were spent around 20mph in pace lines. My GPS lost signal for at least 4 miles in the trees on the trail between Yelm and Tenino. One bummer about GPS.
We did the ride in about 12 hours of ride time (about 16 hours of total time start to finish). My max speed was 36mph down one hill (I get nervous I'll fall off) but I did get to 34.5 on my own power at the bottom of a hill (and zoomed passed Ruben who's gearing isn't as good in those situations)).
Here's Lauren and Ruben's pictuers (video to come). Here's one of the "team" (minus Greg Barnes (CS grad) who had started early, stayed 20 miles further down the road than us, and finished around noon on the second day).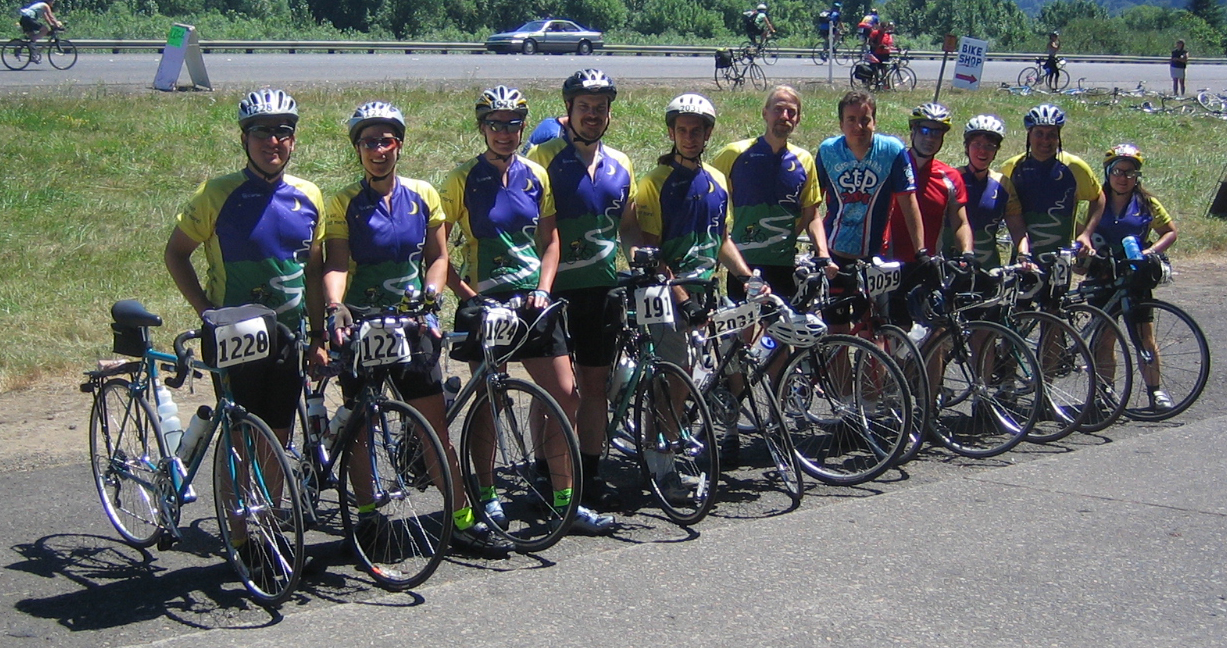 Left to right:
Ruben (Computer Science grad), Lauren (Computer Science grad), Megan (met through Paul), Erik, (Computer Science grad), Paul Franklin (Computer Science grad), Keith Golden ((Computer Science grad from the bay area, who just was in a bike accident < 4 weeks ago), Scott (someone Megan met at a kayaking course and roped in), Marc (Computer Science grad), Joanna (Rich's wife, flew in from NY), Rich (Computer Science grad, flew in from NY), Naomi (through Lauren, from Team Danskin last year)
Here are some posted videos:
It was fun. I think we're a little "toasted" (from the sun) and my thighs are a little sore. But most importantly, no injuries (in our team, we saw 2 riders down, but concious, one getting put on a backboard, but who could move her legs) and no flats.