This is pretty long, so here are the short bits:
Stats. Photos are at Marathon photo- Ruben is 4655 and I'm 4654.
Highlights from the trip:
– It's amazing what a body can do on little sleep.
– Ruben recovers from tumbles exceedingly well.
– Ruben and Matt are fantastic for sticking with me even though I'm slower than him.
– Riding 202 miles with a flashing princess crown.
– "It's a small world" even on a bike ride with 10,000 people
– 0 flats for 3 people.
– Compression on a bruise helps.
– Food, food and more food.
– The 3 H's kicked my ass mid-day – heat, hills and headwinds.
Longer story:
My story starts the Wednesday before when I went down a water park slide. I turned sideways at the end of the slide's cement ramp, the plastic sled I was riding came out from under me, I skid on my back on the concrete and the sled flipped over and it's handle hit me in the "gutter" between my leg (panty line) and the girl parts. It hurt, but it was hard to see so I didn't ice it all day. The resulting bruise was at least 2″ x 4″ and the worst shade of black and red and really hurt once the bathing suit came off. I iced it and put Arnica on it for 2 days and got pretty low – all that training and I thought I wasn't going to be able to do the ride.
When I came home on Friday – I tried sitting on my bike. It was a little painful, but ok. I went for a 5 minute ride on my bike outside, including a short 1 block hill, then put the bike on the trainer. I did 1/2 an hour and it was ok but I didn't want to overdo it.
Being ever prepared, I wound up making a few contingency plans
a) Getting on the bike at 4:30 am, hurts to much, punt and get in my car and drive SAG for Ruben
b) Stopping anywhere in the first 10 miles, finding a bus and getting home that way
c) Stopping at REI, calling someone for a pickup.
d) Stopping in Centralia – I had packed a separate bag and sent it with Rich and Joanna's bag (with MK). Rich and Joanna said I could spend the night in their room if I had to.
e) Stopping any time between Centralia and Portland – Liz, the sweetheart she is, who was driving SAG for her hubby and friends, was even willing to come back and get me if it got to be too much.
Then there were the super secret contingency plans
– I gave the 18 year old instructions on how to find us on the route so if I had to I could call and beg him to come pick me up and take me home
– Ruben carrying enough cash in his pocket that would get me by cab anywhere.
Still even with all these contingency plans, I was a nervous wreck.
Elizabeth and Greg kindly hosted a carbo load party which was a lot of fun. Stephen, Kristina, Erik (with Laura), Joan (who wasn't riding, but joined us for good wishes), Rich, Joanna, Ruben and I got to partake of the yummy chicken burritos and limeade. Elizabeth gave out our prizes for the STP supplemental training program. During this I was being a little bit Princessy about not sending in "points" – just what I had done to train for the week and leaving it up to Elizabeth to determine points so my prize was a princess crown that blinked! This *obviously* had to be attached to my helmet.
The rest of the evening was about ride preparations and I got into bed around 10. I started to fall asleep reading, but when Ruben came in, I woke up. I realized I had forgotten a few things on my bike, got up around 11:30 and put on a back light and pumped the tires. My heart was pounding and kept singing "Help I'm Alive" by Metric to myself: "http://www.lyricsbay.com/help_im_alive_lyrics-metric.html" –
Help, Im alive, my heart keeps beating like a hammer
Hard to be soft, tough to be tender
Come take my pulse, the pace is on a runaway train
Help, Im alive, my heart keeps beating like a hammer, beating like a hammer
I tried sleeping on the couch to keep from waking Ruben. He came down and tucked me in anyway. I wound up getting about 2 hours of sleep, waking up right after a dream and realizing at least I got 1 cycle that included REM sleep. It was just before the alarm went off at 3:45 am. I went upstairs and Ruben was also waking up. He told me he only got 1 hour of sleep.
Getting ready was pretty uneventful. We left the house at around 4:30 and it was still dark and I had no front light so I had to take off my amber sunglasses to go down the hill to the starting line. I was pretty nervous and tentative as we started out and kept my speed down. We saw a lot of other folks with bikes on their cars on the road, plus a few other cyclists as we came closer to the parking lot. The cars were backed up a long way. I'm glad I live close to the start.
It was kind of odd going passed all the other baggage trucks for midpoint lodging… finally we got to our Portland bound truck and dropped off the bags. Then we waited where the espresso cart used to be – it wasn't there this year :(. It turned out that Erik, Rich and Joanna missed the first wave, but we decided to go anyway because we knew it would be a long day ahead.
I noticed it was starting to get a little lighter out and I relaxed a little bit more. We saw the rider with bib number 10,000 pass us on Boyer. What caught our attention was him saying loud enough for us to hear "yeah, I had to pay extra for it." (it was raising money for Cascade's Major Taylor project).
Our one major incident happened in the first 6 miles of the ride. We were going down the S-turn to Lake Washington Blvd. I was apparently ahead by a little bit and came around the 2nd curve on the inside. So did Ruben, only he got crowded out by folks who cut the curve closer from the center. He had a choice of going into the curb or trying to jump it, so he did. The tumbled over the bike, going down between two big boulders on the side of the road! I saw someone tumble and was worried, but had to keep going as people were behind me. Then the yellow sleeves of his jersey caught my eyes. I immediately pulled over even though others were whizzing past, got off the road and ran up the hill calling his name. Other riders were calling out "He's up, he's ok," but I thought that was the end of the ride anyway. I was really glad to see not a scratch on him, and he didn't even seem to shaken. His front brakes didn't work but other than that the bike seemed ok. With a little adjustment he could go on and we debated stopping at Seward for a check. Strangely, part of me relaxed more thinking our trip was "pre-dinged."
We saw one of the skateboarders early in the ride – on the flat part of Lake WA Blvd. Either I was really early or he started later than normal (I usually pass him on the trail between Yelm and Tenino).
We passed the Seward park stop as Ruben didn't feel like stopping and we got to the top of the Seward park hill right at 45 minutes. We stopped briefly to have a bite to eat and fix the speakers which kept coming off both our bikes. Erik came by right then with Matt T (they both work at Amazon, but apparently the wives know each other) and said "What, a flat already?" We got on our bikes and started to follow him. I noticed almost immediately that he had a flat. He commented that it was because he teased us and pulled over (Matt stuck with us and we figured Erik could catch up). Unfortunately Erik apparently and a bad spare and CO2 cartridge, so he took some time and eventually hooked up with Rich and Joanna.
The ride to the REI stop was really uneventful. The winds were fairly calm and there wasn't that much traffic early in the morning. Happiness was the early day bonus of relatively clean restrooms and a pretty quick stop. Ruben and I shared an Odwalla and a peanut butter tortilla, and I had had some fruit. I also checked on the bruised area which was hurting but not getting any worse, so I decided it was ok to press on.
Between REI and the Puyallup hill we wound up with 2 folks on the tail of our pace line. She was a chatty woman – an engineer from Boeing. We lost her on the hill though as she was surprisingly slower than me on the hills. I passed a few people – maybe only 5. Ruben and Matt were waiting at the top, but not for too long. I didn't stop at the top and they caught up. Ruben saying he passed 97 people (he was aiming for 100). Yes he counted.
Ruben was really good about reminding me to eat at 45 minute intervals. I ate something as we were riding, but I don't remember what – maybe more sharkies. Mitchel caught up with us on the way to the Spanaway stop and rode with us for a brief bit before catching up with his train of folks. I wanted to skip Spanaway and go to the Safeway that I recalled was just beyond the stop from last year. Unfortunately I couldn't remember how far beyond the official stop it was (it's only 3 blocks) and Ruben needed the restrooms. So we stopped to get food, water, and wait in the LONG lines for the port a potties. There was a "standing room only" port a potty for men, which prompted a discussion with the women about how the rest of the men would be going into the sit down ones and will make it smelly for the girls, but we had no solution to the problem as we can't really stand like guys can. I saw Ruben's old co-worker Jude in the line. He's also working at Amazon now, and it appears he may be in the same area of Amazon as Matt (as we discovered much later at St. Helens in Oregon).
The food at Spanaway was at least good (Whole foods!) so that made up for it. This was one stop where they had Rice Crispie Treats but I couldn't find any peanut butter to put on them. I had some fruit and took a packet of cookies to go. Still the next time I *will* go to the Safeway instead.
Our next section was non stop from Spanaway (at mile 53) to Tenino (at mile 85). I missed the start of the Yelm/Tenino trail, but Ruben and Matt hopped right on. I got on at the next entrance. This is where I started to feel the heat again. And once again I looked longingly at the really cool lake next to the trail and wondered "why can't I stop and just go swimming." Ruben said "that's a different kind of ride, not the ride we're on right now." I know he's right but that lake looked SO darn inviting.
We made Tenino in amazing time. It was only 10:30 am, and I think we had only been on the bike around 4.5 hours. This was amazing time in my book. The highlights were Ruben buying a diet coke (which tasted so damn good at the time) and a chocolate no bake cookie. But nicer was the "clean" bathrooms with a real toilet, real soap and real running water.
The last 15 miles to Centralia were also uneventful, except for my toe starting to fall asleep from cramping in my leg. Ruben saw a coffee hut on the way into town that had a frozen coffee drink. We tried to find another coffee place that was more on the way to town but eventually circled back to it. It was the "best frozen mocha ever." Matt asked for a doppio but got a third frozen mocha because they don't know what doppio means in Centralia. Ruben discovered his mocha could fit between his aerobars and once again thought the aerobars were the best father's day gift ever. I carried mine in my left hand (which meant I couldn't high 5 the kids waiting near the college), but I did ride through the spray of water the mocha in one hand. Someone took a picture, but I didn't see it on Marathon photo. It was epic.
We headed through the college to the other side and the best part for me – getting to go to the 1 day rider stop! For me! I felt so special! It was also my best Century time ever – 5:50 ride time, 7 hours total time. I had this sudden vision of being in Portland by 7:30 or 8pm.
I went immediately to the first aid tent to ask about the bruise. They immediately gave me some ice and asked if I needed ibuprofen. There was a really nice nice MD there who was willing to go actually look at the horrible thing in a stall in the bathroom. She said that I had bled under the skin (as opposed to just bruising?), checked a couple of places, and then gave me the go ahead to go on if it wasn't too painful. Liz and I touched base and I told her I was going on. I also sent a text to Erik and Rich who were staying in Centralia (at Great Wolf Lodge) to tell them I was going on.
I ate a 1/2 a sandwich (PBJ or turkey? I can't recall but I think it was PB&J) while I iced my bruise and it did feel a lot better after that. While riding I took to sticking the ice in my shorts which helped my hip which was bugging me from squeezing the seat more than I normally do to avoid sitting down fully on the bruised parts. I also wound up in my aerobars a lot more, even following Ruben, which is NOT a smart thing to do, but was necessary especially the second half of the day.
We stayed in Centralia for about 1/2 an hour, and then had a fairly easy ride to and through Chahalis. As we were going across I-5 for the second time Ruben and I saw a dust devil of straw kick up right in our path and we both had to ride right through! I wound up with a piece of straw in my handlebars and I think something irritated my eye… it was a very weird experience to have the wind speed up like that as we rode through it.
Then things got hard. It was getting hot already and the headwinds picked up. To top it off we were getting to the hilly part of the ride. The hill from the valley up to Napavine was particularly hard for me. In fact I was passed by unicyclist on the uphill! I told the guys I needed break for food a the top of the hill and also because my leg cramped. I filled my water bottle and almost choked on the water I tried to drink out of the hose.
Our next supposedly quick pit stop was in Winlock. The stop took a little longer because Matt and I wanted to reapply the chamois butt'r. On the line for the bathroom I saw guy-gal tandem team I had seen on many other Cascade rides and Ruben saw on RAMROD last year, but I still don't remember their names. I begged some ice off the gas station folks and put the pack back on my hip in my shorts to keep the pain down and took more advil.
We skipped the stop in Vader and made quick work of the hill there. Ruben and Matt were not having to wait too long for me at the top of hills, but the heat was hard for me. My stomach was a little upset, but I continue to eat something, or at least drink my now warming Accelerade. I had to stop at Castle Rock to give my leg time to uncramp so my toe would stop hurting. I also got more ice, at a little more, and checked in with Liz who was already in St. Helens waiting for Brad and crew.
On one of the hills in the 7 miles between St. Helens and Lexington I started to think I really had a flat. It's just that my legs were starting to really feel like I had nothing left to give. I didn't quite understand as I was eating and I should have had enough energy not to bonk. But the 3 H's (hills, headwinds and heat) were just getting to me. The irritation of the bruise and my toes weren't helping either. Nor was the lack of sleep which was starting to hit me. We had been on the road for 11 hours.
We took a longer stop in Lexington and was able to recharged my GPS a bit. We saw Jude & his crowd resting as if they had been there for a little while already. I sat on the ice I had left from Castle rock but it was almost all melted and there was none at Lexington. I was really tired from lack of sleep the night before and just wanted to curl up in the shade. I saw Ruben laying on the bench and was jealous for his little shut eye.
After the 20 minute or so stop, we were back on the road through Longview and then Kelso. Near Kelso had some jerk scream "Pedal Mother f-ers" from his car as he passed going the other way. Nice.
The headwinds were pretty incessant at this point, although we had heard from someone else on the road that there was a tailwind on Route 30. I was hopeful, even as the horrid cross wind was blowing me sideways as I crossed in the single file line across the bridge in to Oregon (one day riders do not cross in waves as the 2 day riders do). I lamented that this year I didn't have Ruben's camera to take a picture.
Usually there is a lot of "found treasures" on the downhill side of the bridge – water bottles, rear lights, etc that have come off bikes as they go over the expansion joint. There's not nearly as much even at the "tail end" of the 1 day riders as we were. It was nice not to have to avoid that stuff.
The tailwind for the first 10 miles to Goble on route 30 was GREAT. We really picked up speed AND the road was mostly in the shade by this time of day which really helped. At this point I was seriously craving a Diet coke to help settle my stomach, for the caffeine and probably for the salts in it. Worst was the light headed feeling I was getting as I was staring at Ruben or Matt's wheel/chain. We arrived in Goble with my legs shaking.
There was no diet coke at Goble! I was really disappointed and the Gatorade was a really crappy alternative but I bought it anyway. I ate some cheddar/peanut butter crackers I found in my jersey that I had picked up in Lexington. y. I had salt crackers that i Had picked up along the way and some gatorade. There was "only" 40 miles left. We had made such great time in the first half of the day and the second half was just sheer exhaustion. I likened the ride at that point to working in the garden all day until I was completely exhausted and then still having to ride from my house to Redmond and back. What's usually a *really* easy ride seemed so hard at that moment. However, as tapped out as I was, stubbornness won out and I knew I had to make it on my own.
Unfortunately the wind got a little squirrely again and our precious tail wind was no more. We did have another stop at St. Helens, where I ate some more pretzels and grapes. There wasn't any popcorn which is what I was really craving. Because this is the stop where I usually love to have the oreos (and I was so sad when they were out last year), I force myself to eat one of the 2 oreo cookies I took. I threw the other one out because I knew I needed the salt more. I thought more about Diet Coke (there was none) and also the story of Silvia K having chicken soup on her Iron Man ride. Chicken soup sounded really good at that moment.
We also saw Jude and his crew again. I suspect they were arriving at the stops before us and leaving usually just before us. This time we left before they did.
Fortunately the road continued to be shady AND it was getting cooler! The lack of heat was allowing me to do better. And best of all, the wind mostly stopped and our pace picked up. Matt kept riding off faster than I could start, but we'd eventually catch up and joke that our "peloton" had caught him.
I had to stop at Scappoose to use the bathroom, which I should have done in St. Helens, but Ruben's calculations were that we were going to get in right at 9 if we didn't start to leave right away. Matt bought me a diet coke while there, and then we were off, with Matt in the lead. We passed Jude & co on the road – they had started out after us from St. Helens but didn't stop at Scappoose. We caught up to Matt again (inside of Portland city limits, which is 10 miles from the finish) and he did a great job leading at the end, pulling at 21-22 mph. I don't know if it was the salt or the sheer will just to be off the bike, but I was keeping up.
We finally peeled off route 30 and cheered! I did pretty well at attacking the bottom of the "last hill" at Montgomery park, but totally petered out at the top. Some guy pushed me for about 10 feet and I told him I loved him. He said I shouldn't tell his wife.
Coming in at the end – near downtown – is much easier on the 1 day ride than the 2 day ride. There is a LOT less traffic and a lot fewer people. We saw folks from Portland dressed up for their Saturday "night ride." I commented that there were no photographers on the bridge like there usually is for the 2 day ride. Ruben and wound up at the tail end of one group and slowed down enough so that we were the only people in the chute when we were. I turned on the blinky Tiara light and did the princess wave as I came in.
Somehow Ruben, Matt and I managed to catch up with Liz, Brad and Mitch at Andina for a fabulous dinner AND stayed awake until almost midnight. I was asleep as soon as my head hit the pillow and the next thing I knew it was 9:30 am.
Day 2: We woke up at 9:30 and had breakfast with some friends before heading to the finish line. We found Mitchel and saw some riders coming in looking splotchy from rain drops. I overheard stories of lightning and hail and wondered if Linda, Rich, Joanna, Erik or Mark got hit with it. At one point I saw some my old Danskin in Training teammates (Brandi and Jennifer) arrive looking strong and fit. I never did see the other teammate – Sharon. Ruben and I waited with Mitchel to cheer Linda and Nadine (from Team in Training) come in. Ruben and I also waited for Joanna and Erik – who were told by Rich and Marc to go ahead without them as it had started to rain pretty hard and they were still 1-1.5 hours away. Rich and Marc came in around 5:15pm and Stephen and Kristina and their crew came in apparently around the same time. Most importantly – everyone was safe (albeit a little wet)!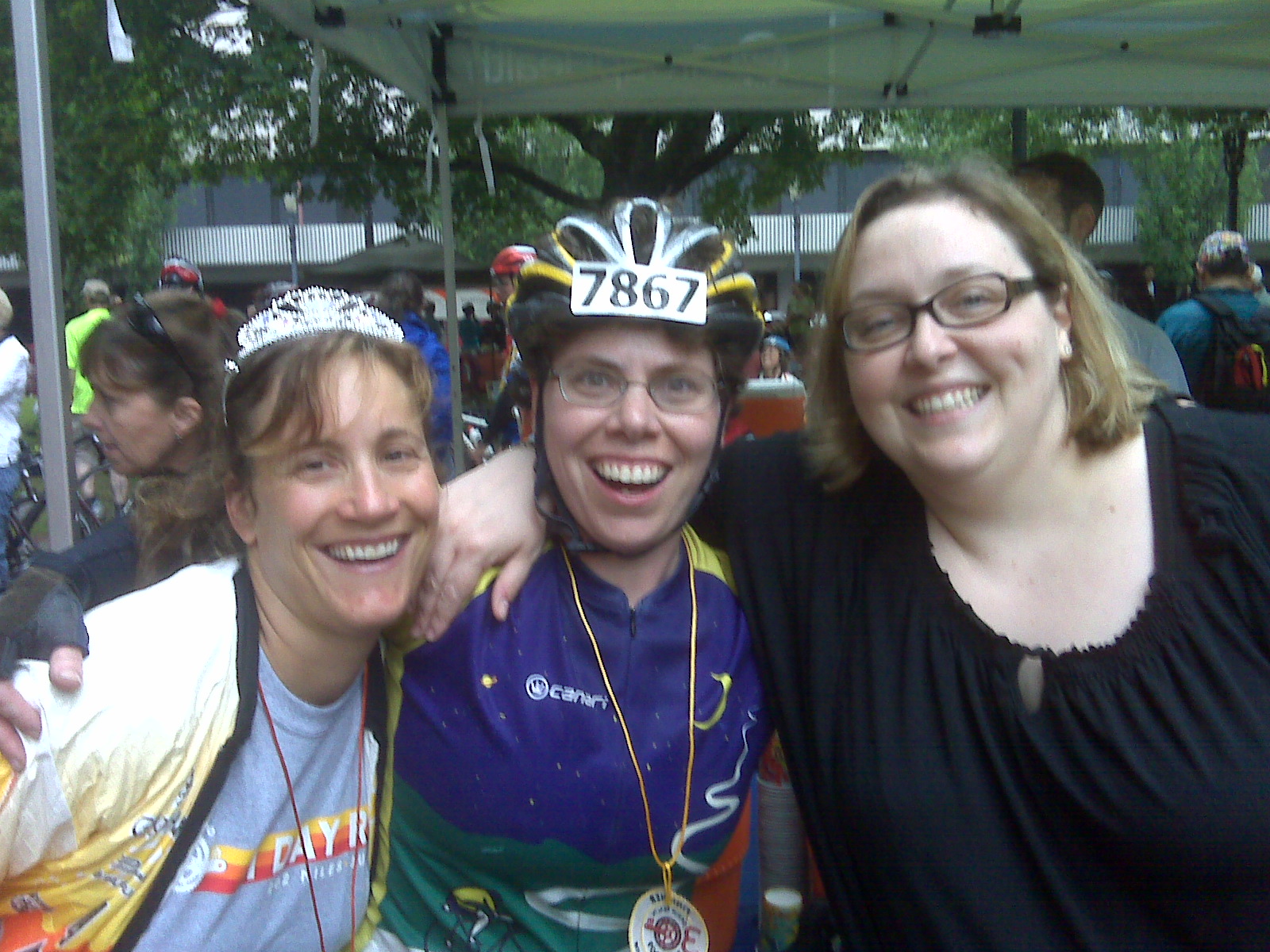 I want to thank everyone for all the support, not just for doing the ride uninjured, but being my back up in case I needed an "out" from being hurt. An especial thanks to Ruben who really stuck with me even though I was so much slower than he normally goes. It meant a lot.